Open Gym
Sunday, August 24th
5:30PM - 7:30PM
Location: Hell's Kitchen Gym
Price: $10
Capacity: 20 Players
Email abchoopsnyc@gmail.com to reserve a spot
If you'd like us to host an event for you, email us. Check out an event we hosted previously here.
Players of the Week
Each week we feature an outstanding performance by a player in each league.
Leo J. - Grand Life
41 Pts, 10 Rbs, 2 Ast, 1 Stl, 1 Blk
Sun - 10AM: GLF 79 - TCU 67
DJ C. - bAll Stars
22 Pts, 10 Ast, 4 Rbs, 1 Stl, 1 Blk
Sun - 2PM: BLS 59 - DSW 44
Robert V. - Average Joes
24 Pts, 5 Rbs, 5 Stl, 2 Ast
Wd - 8PM: AVG 50 - BOO 41

Name: James Gonzales
Team: The Come Up
James first played in ABC Hoops NYC in the league's sixth season in the Summer of 2012. He's currently playing in his eighth season.
James' team, The Come Up, has appeared in three championship games and has won two. He graduated from Penn State, and is in the process of earning his MS in Accounting from Baruch College.Read More

What: 3-Point Contest
When: June 22nd @ 12PM
Where: YMCA on the Bowery
Prize: Assorted Prizes & Trophies
Under 18 Price: $5
18 & Over Price: $10
ABC Hoops NYC's summer 3-Point Contest is being held Sunday, June 22nd in association with the Chinatown YMCA on the Bowery.
Click here to read more and sign up.
Check out footage from our last 3-Point Contest: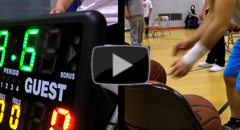 Also check out the our Summer Promo and Benedict Schemers' Road To Perfection.
Mailing List
Enter your email to get updates from ABC Hoops NYC:
Got a question about the league? Check out the FAQ.