ABC Hoops NYC
Read about us in SLAM Online!


Sunday & Saturday Week 1 Scores
The scores from Sunday's & Saturday's Week 1 games are up. The Results page is up with full standings, individual stat leaderboard, and team stats. Team pages will be up after Week 2. Pics of the games will be up later in the week.Read More
Sunday & Saturday Weeks 1-3 Schedule and Weekday Week 1 & 2 Schedule
The schedules for the Winter Weeks 1-3 Sunday & Saturday games are out. The schedule for the Weekday Week 1 & 2 games is out:
Players of the Week
Each week we feature an outstanding performance by a player in each league.
Open Gym
Sunday, December 15th
1:00PM - 3:00PM
Location: East Village Gym
Price: $10
Capacity: 20 Players
Email abchoopsnyc@gmail.com to reserve a spot
If you'd like us to host an event for you, email us. Check out an event we hosted previously here.

What: 3-Point Contest
When: May 19th @ 2:45PM
Winner: Jordan S.
Prize: Concords
Check out footage from our last 3-Point Contest: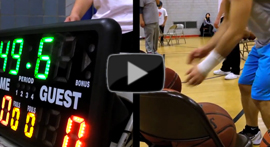 Also check out the our Summer Promo and Benedict Schemer's Road To Perfection from the Winter 2011-2012 season.
Sunday, December 8th
10AM - MND vs NBK
3PM - FLC vs TLC
11AM - CHF vs IUS
4PM - ORC vs BKK
12PM - WRB vs TMG
5PM - FLH vs BIL
1PM - JTL vs BEN
6PM - BMS vs FLD
2PM - FTM vs FUN
7PM - HDR vs RHM
Saturday, December 7th
1PM - ROR vs NBN
5PM - HDM vs LPH
2PM - HDD vs DOU
6PM - FLB vs IND
3PM - FBC vs UMC
7PM - BKF vs PPL
4PM - POP vs MON
Wednesday, December 11th
6:45PM - NPC vs PER
7:45PM - ORP vs SOM
8:45PM - HHO vs PNZ
9:45PM - THB vs BSH

Name: Troy Watson
Team: Flashdancers
Troy first played in ABC Hoops NYC in the league's fifth season in the Spring of 2012. He's currently playing in his fourth season. He's also got some interesting opinions on the Nets-Knicks Rivalry. Read More


ABC Hoops NYC's store is now open. There, you can buy ABC Hoops NYC directly from us, and we can also connect you to sellers of authentic rare Jordans. To see what's offered, click here.