ABC Hoops NYC
Read about us in SLAM Online!


Registration is open for ABC Hoops NYC's Summer 2013 season. You can either register a team or sign up as an individual. The season starts June 1st and June 2nd.Read More
Benedict Schemers Win 2nd Championship
The Benedict Schemers won their 2nd Championship this Sunday after beating the Asphalt Ninjas in the Semifinals and Real Ready who appeared in the finals for the first time since ABC's first season. The scores from all of Sunday's games are up. Team pages are updated with cumulative and per game stats for each player. The Bracket has been updated. Game photos will be up later in the week. The Player of the Week for the Sunday Championship is up.Read More
Jordan S. Wins 3-Point Contest
Jordan S. formerly of Auto Buckets won ABC Hoops NYC's fifth 3-Point Contest on Sunday Afternoon. He remained very consistent over each round and edged out Daniel C. in the final round by two points.Read More
Players of the Week
Each week we feature an outstanding performance by a player in each league.
Open Gym
Sunday, May 12th
11:00AM - 1:00PM
Location: HK Gym
Price: $7
Capacity: 20 Players
Email abchoopsnyc@gmail.com to reserve a spot
If you'd like us to host an event for you, email us. Check out an event we hosted previously here.

What: 3-Point Contest
When: May 19th @ 2:45PM
Winner: Jordan S.
Prize: Concords
Check out footage from our last 3-Point Contest: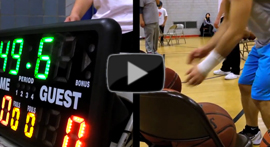 Also check out the our Summer Promo and Benedict Schemer's Road To Perfection from the Winter 2011-2012 season.
Semifinals
11:30AM - Benedict Schemers vs Asphalt Ninjas
12:30PM - Real Ready vs Grand Life
Sunday Finals
1:45PM
3-Point Contest
2:45 - HK Gym

Name: Jordan Schultz
Team: The Click
Jordan first played in ABC Hoops NYC last spring as a member of Auto Buckets. He returned to ABC to win the 3-Point Contest. He'll be playing again in the Summer Season as a member of The Click. Read More


We previously featured Dorien Brown and hosted Dorien and his fellow TU Alumni and Friends for an event on March 17th. Read more about it here.
ABC Hoops NYC's store is now open. There, you can buy ABC Hoops NYC directly from us, and we can also connect you to sellers of authentic rare Jordans. To see what's offered, click here.